1. Add product to cart from storefront or from product description.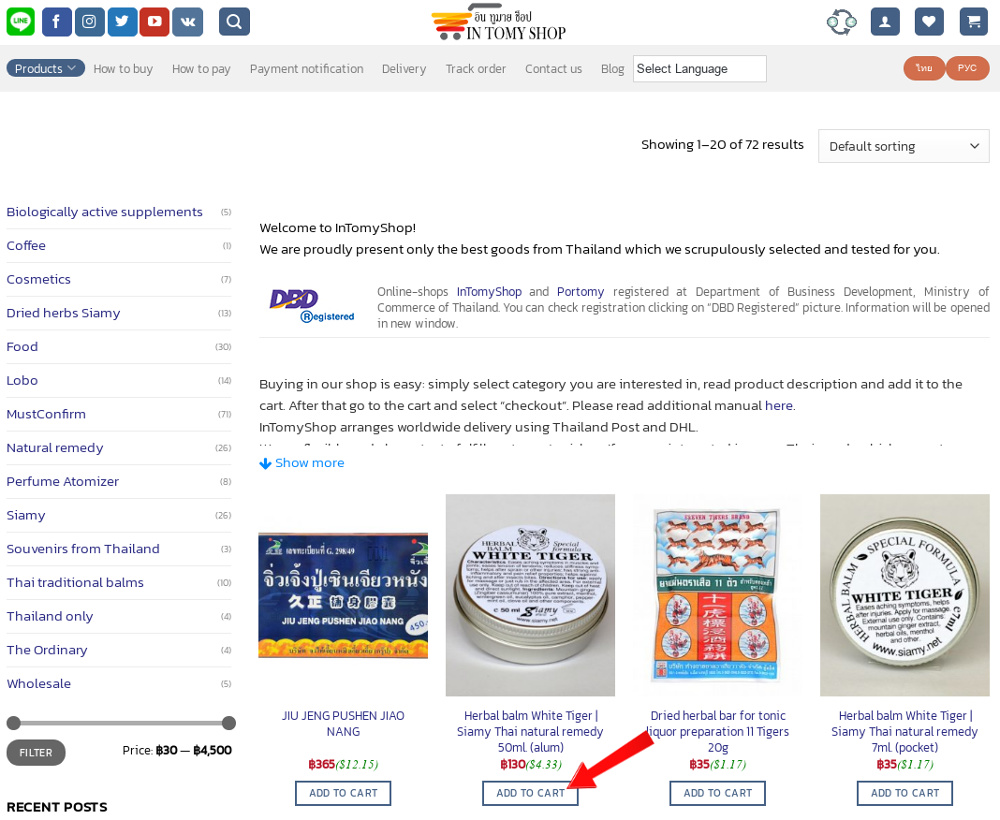 2. Click "View Cart" button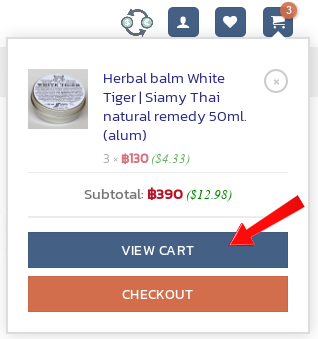 3. On the cart page click "Calculate shipping"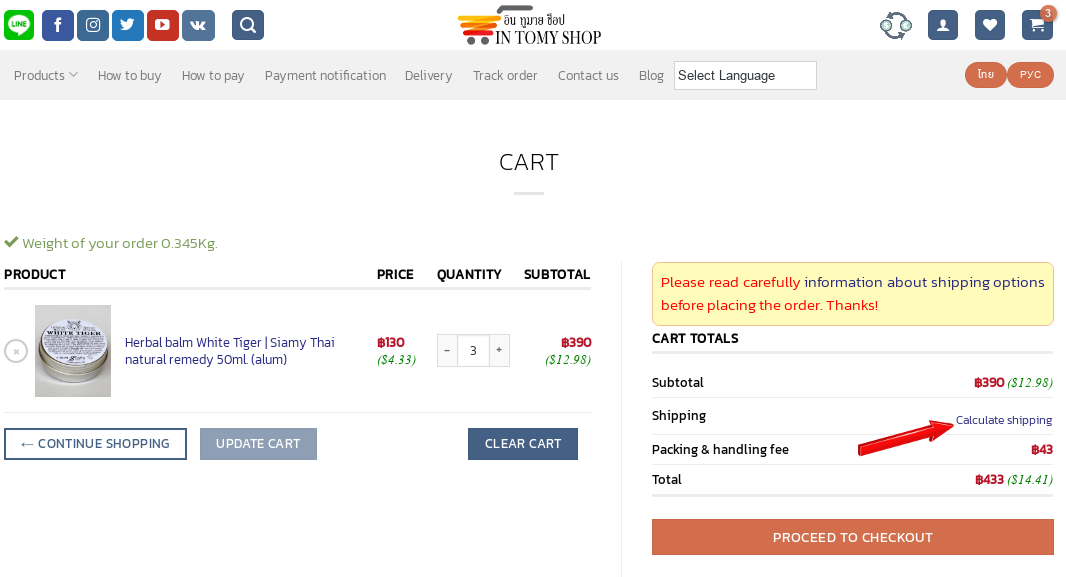 4. Provide information where to ship and click "Update".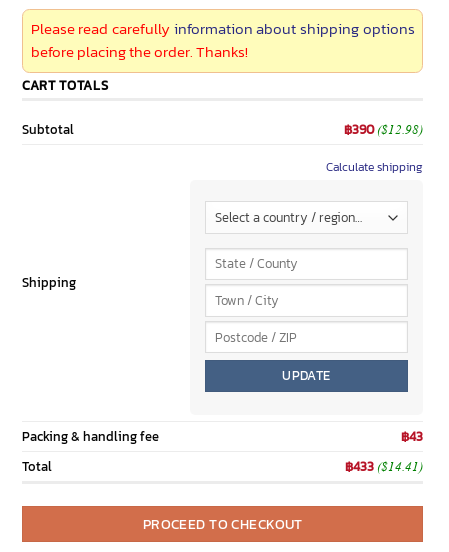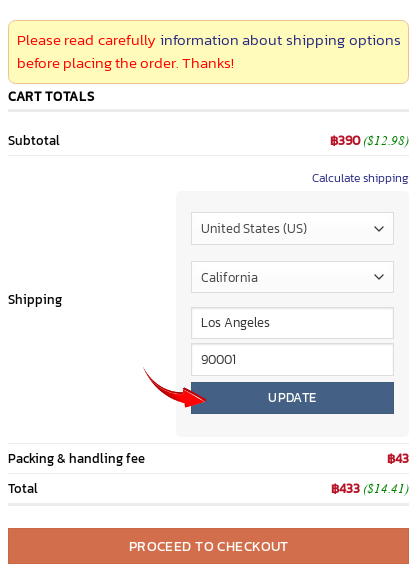 Note: if you have account and logged-in, delivery cost will be calculated based on address from your account.
5. Select desired delivery option and click "Proceed to checkout"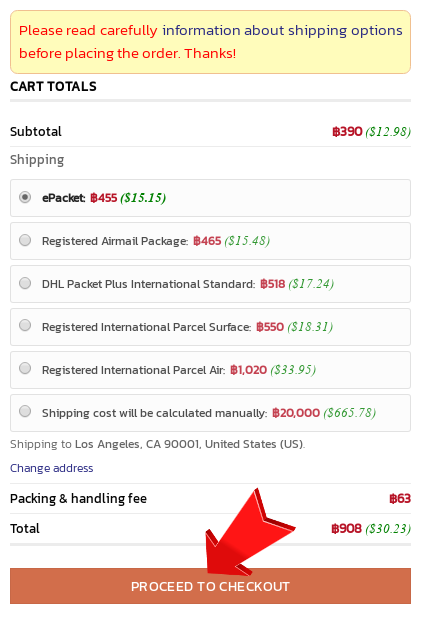 6. Fill information required to process order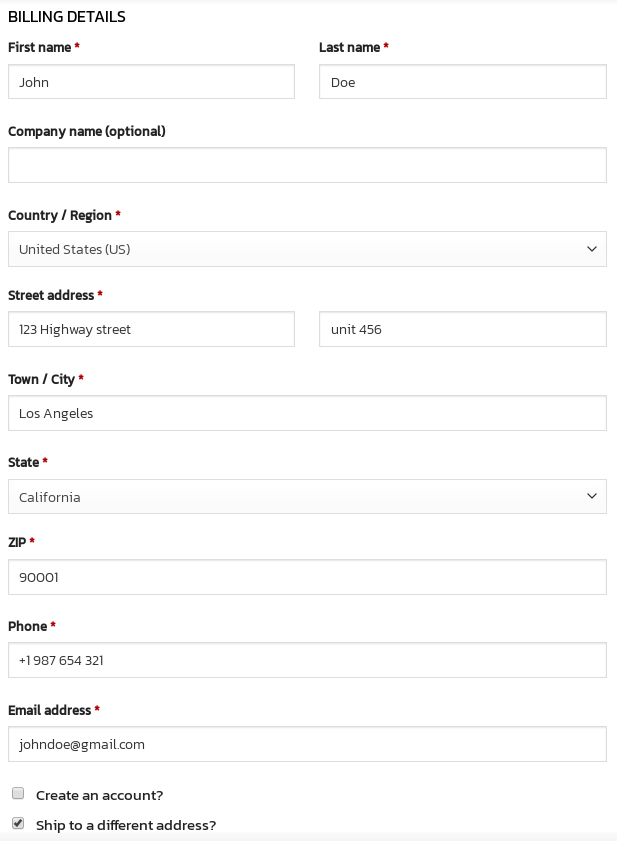 Notes:
• If you have account and logged-in, information will be filled automatically.
• You can create an account on this step for more convenient shopping next time. Just mark check-box "Create an account?"
If you want us send this order to another address, mark check-box "Ship to a different address?" and fill address: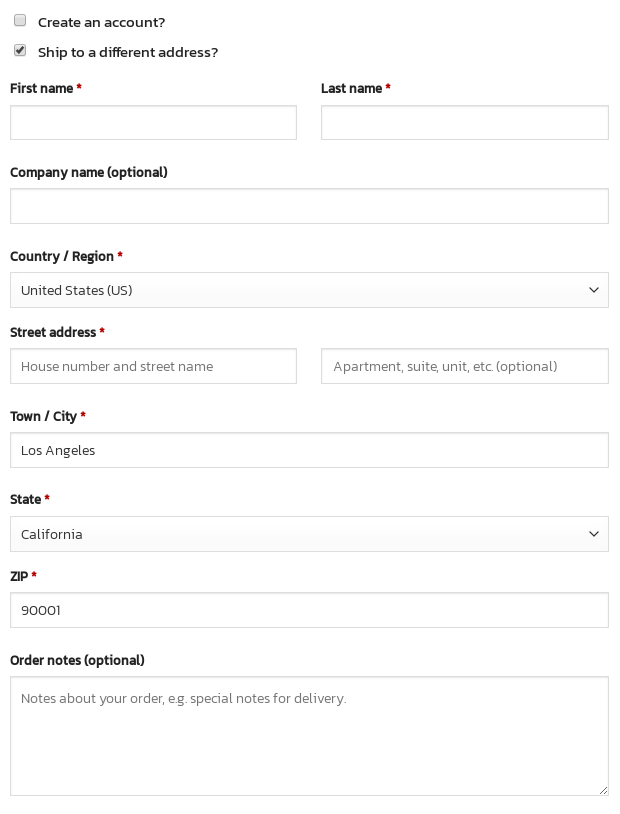 If you want us send order to billing address, just unmark this check-box.
7. Place order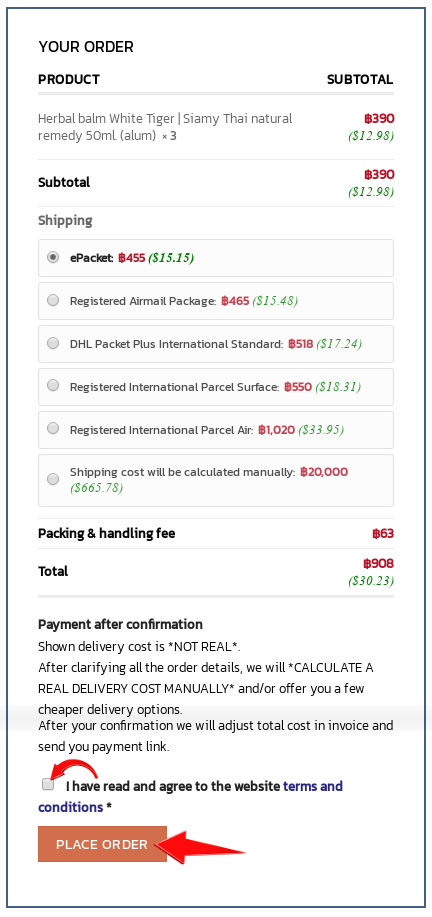 8. If everything is correct, you will see summary of your order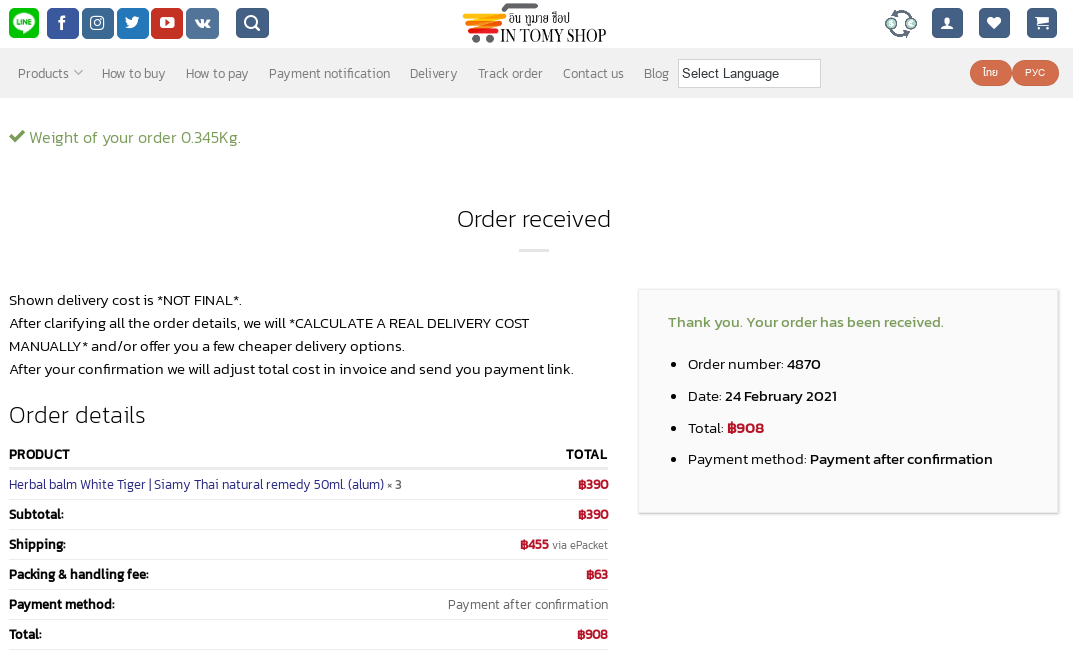 9. Wait for confirmation e-mail
Since COVID-19 many delivery services stops accepting some types of package (for example, Airmail), changes tariffs or even "closes" whole countries without any prior notice.
So, we temporary switched off full automatic order processing. To avoid delays and cancellations, we switched off full automatic order processing. We manually check every order and confirm possibility of delivery before you pay.
After you placed order, please wait until we check your order and availability of selected delivery option, as well as adjust delivery cost according current tariffs. Then we will send you confirmation e-mail with updated invoice and payment link, after that you can proceed to payment. Please do not transfer money before we confirm your order!
10. Pay for order
When you receive confirmation e-mail click on the link "Pay for this order" and proceed to payment page: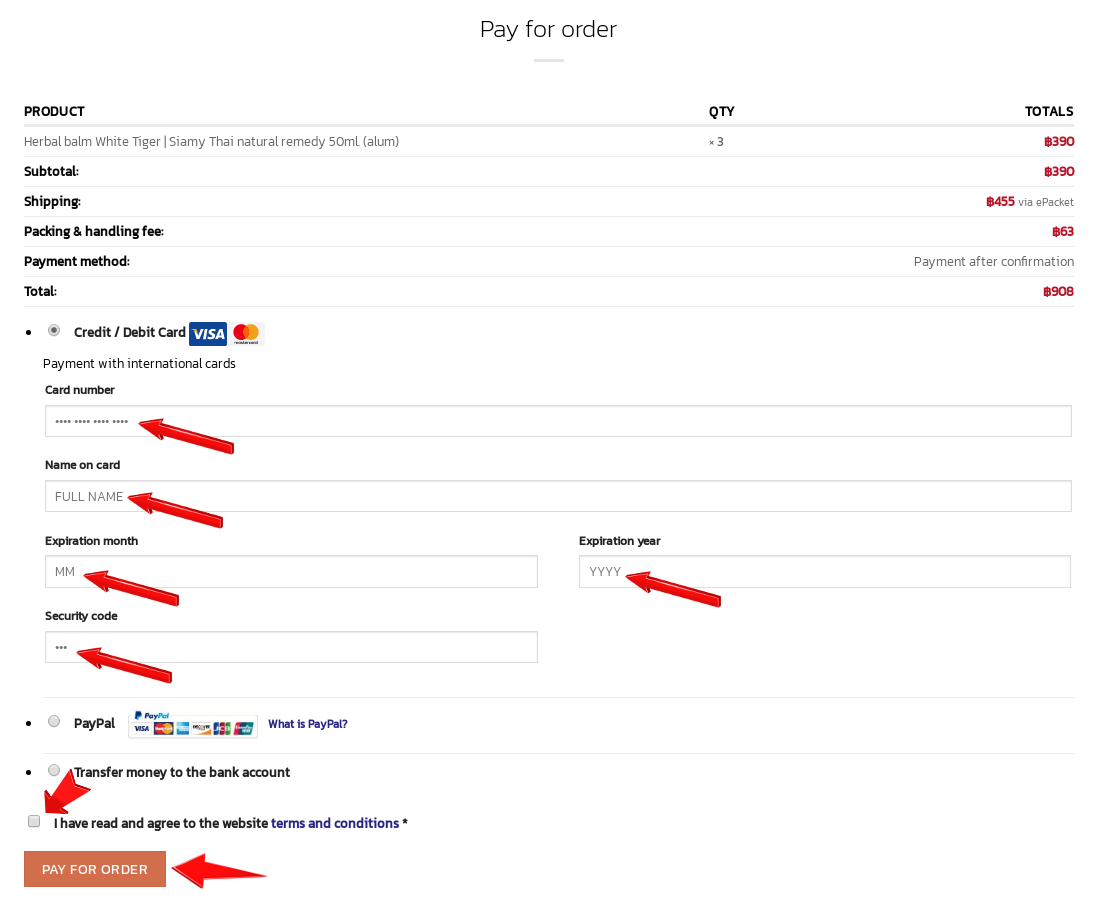 Notes:
• If you decide use credit/debit card for payment, please provide necessary information as shown above. You will be redirected to secure payment gateway OMISE. OMISE uses modern protocols and technology developed by Visa International, MasterCard Worldwide (3D-Secure: Verified by VISA, MasterCard SecureCode). Your card's data processed only inside OMISE processing center certified according PCI DSS standard. All the communications protected by modern Internet security protocols. We never collect and store your card information on our web site.
• Option "transfer money to the bank account" can be used if you have bank account in Thailand, use PayNow system (Singapore only) or WISE.
11. Wait for your parcel
After payment successfully completed, you will get another confirmation e-mail. We will pack and send your order as soon as possible. Usually we ship orders paid before noon the same business day, orders paid afternoon – the next business day. Sometimes when we have huge amount of orders, the processing time could be extended till 2-3 business days. The "business days" are standard working days from Monday to Friday, except Thailand public holidays when post offices are closed.
After sending your parcel we enter tracking number into order information, and you will receive final e-mail "your order completed" with tracking number and link to tracking web-site.
Delivery time depend on selected method and destination country. Please read full information on delivery page.
12. We are flexible and always try to fulfill customer's wishes.
If you are interested in some Thai goods which are not present in our shop, please do not hesitate to contact us, and we will try to find them for you. We would like also to remind you that InTomyShop offers individually tailored delivery. Please read additional information about payment here.